As you are aware Nicole spent the end of last week down here in Australia on a whirlwind publicity campaign. It's now Monday and that means all the new magazines are out and luckily for us Nicole is on the cover of one.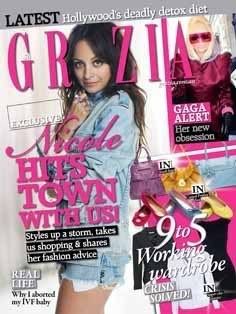 Below is a partial snippet of the article featured in the magazine.
She has a quiet determination and a ruthless fashion sense. It's in her DNA, after all, as Clare Maclean found out…

She's one of our favourite cover girls – whose pictures we've pored over endlessly in this office, and whose easy style we love.

But nothing can prepare us for the mini-dynamo that whirls into the room, introducing herself to everyone in a manic 30 seconds before leaving her entourage trailing in her wake as she spots the racks of clothes waiting for her perusal and speeds off in their direction.

Within seconds she's stripping off her own skinny Jet jeans, ballet flats and Chanel sunnies to try on a ksubi studded jacket and cut-offs from General Pants Co., before strutting out into the studio.

It's only when she emerges in the micro-denim that the full impact of Nicole hits – she is absolutely tiny.

Not emaciated-tiny as she was in her troubled years, but perfectly petite, with fantastic toned and tanned legs. It's hard to believe she's a 28-year-old mother of two, but as she swaps outfits, she's obviously happy with the way her body looks and she's confident about what suits her.

She's out here for the opening of the MidCity Style Space in Sydney's Pitt Street Mall. In 24 hours she has flown in from LA, made that TV appearance and braved the rain and screaming fans (they had to erect crash barriers to control the school-wagging girl crowd), so this shoot is more like downtime for Nicole, who is clearly a girl who loves to shop. And she likes to keep it real.

Asked why she accepted the invitation, she says enthusiastically: "I think MidCity is really great – it's the place to go for high-street brands.

"Forever New is fabulous and I love ksubi, and sass and bide, and all those brands at General Pants. "I'm all about fashion, so I was excited to come out."

All of this while pressing "ignore" on calls from her mobile phone, and with an eye on the next outfit she wants to try on. She scuttles back into the change room and edits the rack with the eye of a ruthless fashion professional, emerging in a pair of black skinnies and a Wheels & Dollbaby leopard-print cardigan. Next up, she delivers the lowdown on the five pieces she just couldn't do without: "A good pair of dark jeans, a good pair of light jeans, a statement pump – like a snakeskin pump or something – a bright scarf and a good jacket."

And the best buy for this season?

"I would say a really great, chic peacoat never goes out of style."

We're sorted. Now, on to a choice between a pair of Louboutins or Wittner boots; there's barely a glance at the Loubs before she's all over the high-street pick. For a girl who can afford anything, it's deeply refreshing. So how has her style evolved?

"You know what, fashion is really fun and I think you just have to have fun with it and experiment with different looks," she confides.

"It's the fun part of being a girl..."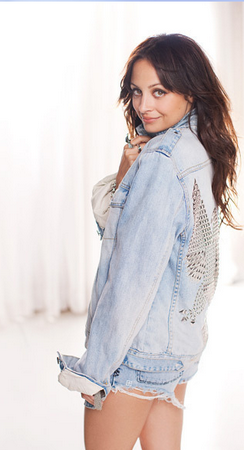 I can't wait to buy this magazine to read the full article!
Full Article and image credit:- grazia australia